Can Stencil Art For Kids Enhance a Child's Artistic Ability? Assuredly, these cool stencils can help with a child's artistic ability.
There is no doubt that Stencil Art for Kids can impact their creative styles.  Apart from the natural scribbling that children do, it is also a good idea to introduce other drawing tools to them even at an early age.  Creativity is certainly a meaningful skill that we would like kids to be good at.
Use Easy Draw For Kids
In case you want to find things that are easy draw for kids, then you should definitely try Stencil Art for kids.  In this post you will find some ideas to get started.  Click here for  Free Stencil Patterns.
Undoubtedly, children love flowers, both boys and girls alike.  In case they find it hard to draw flowers, then they can use flower stencil designs.  For example, they can draw flower petals, or use a Simple Flower Stencil.
In addition, kids can use a bird stencil to extend their masterpiece.  Of course another animal will do too and they will end up with a brilliant picture.  Get Free Stencil Patterns to start your creativity.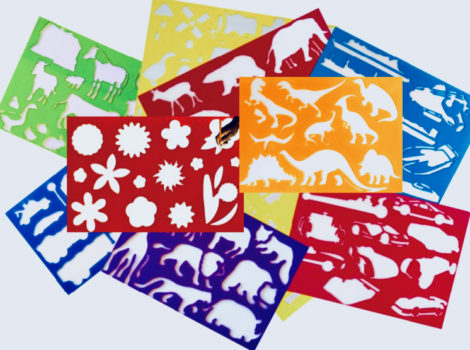 Obviously, stencil art for kids enhance can help a child's artistic ability.  Once they have stencil templates for kids, then they can do an easy draw.  Surely they can draw the outlines of their favorite from a  Dog Print Stencil  or a Cat Silhouette Template.  Following this, they can then add their own personal touch to that drawing.
Can Stencil Art For Kids Enhance a Child's Artistic Ability?
Check out these Free Stencil Designs to help with your creativity.
Remember you can get several drawing ideas for kids right here.  First click the link, then select a stencil template.  Following that, just print and cut along the outline.  At this point, you can color with crayons or markers and even paint.  For an easier activity, click here.
Keep Children Focused
As I have shown, there are several things that you can draw with kids to help strengthen their artistic ability.  Besides, kids can be so imaginative that we never know what their creative thoughts are when we give them an art and craft activity.  By the way, they are ready to delve in without a care about being messy.
Chiefly, children just want to try out what they can do with the materials given to them.  Often times they will come up with a beautiful piece of art in their own eyes.  In fact they are ready to share their story as soon as they finish their masterpiece.
Recommended
Bear in mind that stencil art for kids have drawing templates with a variety of cool pictures kids draw.  Truly these keep children focused and busy for hours.  Whether at home, school or on a trip kids have a blast with them.
Regardless of which stencil art template kids use, they end up with beautiful drawings.  As a matter of fact, the fun experiences delight their faces with smiles time and time again.  Soon they will have a passion for kids drawing stencils.
These provide easy drawing ideas for young beginners, and for the art novice who would like to try their hands at some form of creativity.
Easy stencil designs  are excellent for kids to create picture books, or story illustrations.  They can create birthday or greeting cards, make posters, add decoration to the home, and yes even wrapping paper.
Stencil art designs offer a great way to help kids learn how to draw.  As they do so, their imagination and creative skills come alive and their self-confidence builds up.  Communication skills are enhanced and overall learning to draw becomes beautiful.
Do you think that stencil templates for kids could be placed in the category of educational toys?
How about making stencil art a perfect gift for children who are struggling to draw? Can Stencil Art For Kids Enhance a Child's Artistic Ability?  Please share your thoughts below.
If your interest about stencil crafts is bubbling, you may click on the link below for ideas. https://www.pinterest.com/explore/stencils/ 
Read More
What is Your Preference? Freehand Drawing Techniques or Stencil Art Templates
SaveSave
SaveSave
SaveSave
SaveSave
SaveSave
SaveSave
SaveSave
SaveSave
SaveSave
SaveSave
SaveSave
SaveSave