Face Painting Stencils inspire creativity and guarantee fun for adults and children.  These stencils have transformed how patterns are painted on the face for fun.  No art skills are required, yet design possibilities are endless.
Inspired by the versatile options, you don't have to worry about freehand drawing of especially difficult figures.  Just combine various patterns, grab a sponge or a brush and create awesome designs.  They work well.  You raise eyebrows and turn faces into a wow, not blobs of paint.
For people like me who is not artistic, these stencils make face painting quick and easy.  Filled with inspiration from various creative ideas, you can impress at  any event.
Want to create neat designs with minimum effort?  Face Painting Stencils can do the trick.  With these, you can become the most popular face painter in the neighborhood.  Kids love having their faces painted, so you all will be thrilled.  Nevertheless, it most important that the paint you use is safe. Learn more about face paint safety here.
Product features
Fast and easy
Professional finish
Non-toxic
Skin friendly
Compliant with EU and US cosmetic standards
Various designs and colors
Face Painting Stencils make you create your fantasy.  They come:
Thick
Soft
Pliable
Easy to stick on
Reusable
Self Adhesive Face Painting Stencils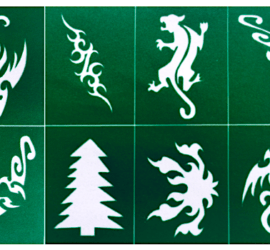 Having strong adhesive power, these stencils stick well on the skin.   Face paint doesn't seep so you won't end up with a smeared image.  Often times there is a 3 – 4 times reuse before losing adhesion.  As with any stencil, you need to make sure your paint is not too watery.
More than stickers for face painting, these have multiple uses.  Add glitter to these stencils and get beautiful designs on your hands, arms and legs too.  Great for birthdays, sleepovers, school carnivals, community fairs and fundraisers, they bring life to many events.  Designs are extremely fun for any occasion.
Fall, Christmas, Halloween, pretend make-up, sporting events, animals,  pumpkin, the list goes on.
The Pros
To use each one individually, just remove stencil design from its backing sheet.  Stick on the face and simply dab paint over the outline pattern with a sponge or brush for that perfect look.
Many Possibilities
A pack of Face Painting Stencils usually include many images for boys and girls.  Creative options are wide and varied.  With little effort, combine designs to suit your fantasy and create awesome looks.
Gentle Stick-ons
Sticking ability gives a stable position and smooth edge finish.  Face paint must not bleed under the stencil.  Never end up with a smeared image on a child's skin.
Right Image Size
Face Painting Stencils should have a perfect fit for small faces.  Even so they should work well with sponges and brushes.
Mess Free Fun
Use them with any safe face paint brand of your choice and ensure lots of fun without any mess.
High Quality 
Stencils should be made from durable plastic for good reuse, not soft, flimsy and breakable.  Bear in mind that after 3 – 5 uses, they lose their stickiness.
Cons 
One time use only for those with delicate cuts.  Lines can rip easily.
Stick-ons are not easy to clean for reuse.  The corners don't hold down well after a few uses causing the paint to bleed out of the design.
SaveSave
SaveSave
SaveSave