A Guilt Free Lesson Plan Template can get you off to a quick start to write any lesson plan.  Undoubtedly, it does the same job which is to teach so that kids learn.  In particular, this post shares a simple Guilt Free Lesson Plan Template which you can use for any subject. 
Specifically, I share a lesson plan with stencils and you can easily do this in an art class.  Notably, this Guilt Free Lesson Plan Template is for the elementary level and you can adjust it to suit any grade level.  Keep in mind that this lesson is also ideal for an after school activity and even at home.
Basically, some primary school teachers who do not major in art per se can find the subject a challenge to teach.  Not all primary schools provide an art teacher, so the classroom teacher takes up that slot.  Often, art activities are not readily available, so I hope this Guilt Free Lesson Plan Template will be of help. 
Guilt Free Lesson Plan Template
Standards 
Artistic Perception: Introduce students to the essential features of visual art.  Focus on these visual components: line, shape, space, color, form.  Show examples of each.
Creative Expression: Students create their own original pieces of art.  Additionally, they analyze both their own and other students work of art. 
Subject: Art
Lesson Title: Stencil Design With Rectangles
Lasting Idea: Stencil art with rectangles can make attractive designs.
Grade Level: 2 – 5
Objective: Students will make and use a rectangle stencil to create an attractive pattern.
Key Focus Principles: shapes, repetition, design, pattern, space
RELATED: Stencil Art Lesson Plan
Concept
Patterns are made of different colors and shapes.  We create patterns by repeating the use of shapes.  Stencils help to make repetition easy.
Time: Approximately 1 – 2 lessons 
Vocabulary: stencil, shape, rectangle, pattern, space, dab, dabbing, edge, paint, repeat, repetition, design, complete
Materials
12" x 18" white construction paper
Small rectangle stencils (different sizes)
Tempera paint in various colors
2 small pieces of sponges (1" x 2")
RELATED
Benefits of Stenciling for Kids
Are Kids Drawing Stencils Modern Teaching Aids
Spray Paint Stencil Art For Kids
Are Plastic Drawing Templates Good For Toddlers to Draw Shapes
Freehand Drawing Techniques or Stencil Art Templates
Assignment Overview
For this activity, students can work in pairs.  Basically, they will repeat the use of a rectangle stencil to create a pattern.  By all means, students can collaborate with each other sharing pattern ideas as they work. 
Likewise, students can exchange the size of a rectangle or use one size and do a repeat pattern.  Watch this short video for a demonstration of repeat stencil pattern.  Upon completion, students will showcase their work of art in different areas designated for display.
Preparation
Remember to prepare materials well before the start of the lesson.  Most important, have the stencils ready especially for the younger kids.  Cut out several rectangle stencils of different sizes for students.  
On the other hand older kids (grades 4 – 5) can make their own stencil. To save time, you can buy plastic stencils which of course are reusable.  Not to mention that they will last for a long time.
Albeit, you may want to purchase construction paper ahead of time.  (SunWorks Bright White Construction Paper by Pacon (PAC8708 12 x 18).  Ideally, this paper is perfect for the classroom.  You can use it to cut out the stencils.  In like manner, students can also use it for their work space design.  Tempera paint is also readily available here.
Essential Questions
What actions support your creativity?  How does learning stencil art change the way you see patterns/designs? 
Key Tip: When you use essential questions they take learning in the classroom to a higher level.  Point in fact is that these questions help students to make important connections as they learn.  As a matter of fact, they make connections to their lives, their environment and the world in general.
POPULAR POSTS
Things That Kids Can Draw With Stencil Art
Sidewalk Chalk Stencil With Kids
Warm up Activity
Show the video below and have a discussion about stencils.
Example Questions to students: Apart from artists, who else use stencils?  What do they use stencils for?  Following this further, you can tell students that many people including  grandmothers use stencils.  Elicit from students the different ways people use stencils.
Remind students that people use stencils to create designs in crafts, not just art.  As a matter of fact, people use them to help with designs in baking, like cutting cookie shapes for instance.  They even use them to make designs for decorating cakes.  Reinforce the repetition of shapes to be creative and show examples.
Focus
Point out the benefits of using stencils to be creative.  Let students know that even some artists use them in their artwork.  For instance, stencils make it easy to repeat patterns.  With this in mind, they attract many stencil artists.  Moreover, they can create an attractive piece of art quickly. 
Introduction

 
Show students samples of stencil art designs with rectangles.  For instance, a house.  Ask students to discuss the patterns with each other.  Allow them to share their ideas with the whole class.  Reinforce the shape, colors, lines, repetition, pattern and space.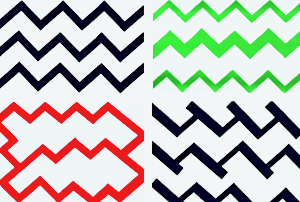 Demonstrate how students can arrange the shapes to create repeated designs. 
Lesson Development With Independent Activity
Explain to students that they will make a stencil design with rectangle stencils.  Tell students that they can use this one shape and be creative.  They must repeat using the shape until they are satisfied with their design.
Step by Step Direction
Give each student a rectangle stencil.  For older students, they could create a stencil to use.   
Place Stencil on the Construction Paper
Each student place their stencil on the construction paper.  Remind students to press firmly on the stencil to keep it in place.  In other words, they should hold it in place.  
Show students how to dip the sponge lightly in the paint.  Point out that they should not dip too heavily, but lightly.  Show them how to test the paint on scrap paper before dabbing around the edges of the stencil.  To clarify, tell students that too much paint can smudge their work. 
Next, dapple the sponge all around the edges of the stencil.  Keep in mind that students follow every step you do.  Complete dabbing to fill in the space.  
Show students how to move the stencil to different parts of the paper. 
Stencil and Dabbing Repetition
To complete the pattern, students repeat placing the stencil on the paper.  Then again, they dab paint around the edges and fill the spaces.  Show students how to repeat this step.  
Complete Design With Repetition
Continue the pattern until the entire design is done.  Encourage students to focus on using just one paint color.
Keep in mind that the possibilities are endless.  Rest assured that the kids will amaze you with their designs.  Even though kids may not line up, the stencil correctly, the end result will still be impressive.
More For You
Best Kids Stencils For Drawing
Assessment
With reference to the essential questions: What actions support your creativity?  How does learning stencil art change the way you see patterns/designs?  Students talk about their designs with each other and analyze their work of art. 
Reflection
Written: To be sure, students can write a short paragraph to describe their creativity.  
Extended Activity: Continuation of designs can go over into another lesson. Encourage the use of other shapes like hearts, diamonds and circles to create more designs.
Follow up Activity: Collect stencil ideas at home for the next art lesson. 
We want to make sure you're happy with your experience at artofstencils.com. If you have any questions, concerns or suggestions please let us know.  Feel free to share this page or leave a comment.  
RECOMMENDED FOR YOU