Nobody denies that Free Spirograph Online allows you to take Spirograph designs to the next level.  This is the digital version, but you can make the same awesome creations and even more.  There are no limits as to where you can go with your designs.

Free Spirograph Online
Here is a big shout out for all those young art enthusiasts!  Do you want to get in on the fun and take your creative imaginations to another level?  Notably, there is Free Spirograph Online to inspire your artistic thoughts.
In an earlier post, I shared an article on Spirograph for Kids, so have you tried the spirograph game?  Did you know that the spirograph has a counterpart online?  If you did not buy spirograph as yet, don't worry.  You can now enjoy many hours of fun with Free Spirograph Online.
To put it differently, this digital version is called Inspirograph.  Uniquely its development was inspired by an engineer from Iowa.
Watch this video for a demonstration.
Inspirograph: Free Spirograph Online 
Truly the spirograph on computer is is like a complement to the spirograph game that is packaged in a box.  Of great significance, the Inspirograph was created by Nathan Friend a brilliant senior software developer from Des Moines, Iowa.  You may read more here: http://nathanfriend.io
Markedly, practicing Free Spirograph Online is a cool way to try out the spirograph game before you buy.  In the first place, you can experiment with the different gear sizes and holes to create a wide variety of patterns.  Surely, kids will find this activity easy to learn and adults can join in the fun with Free Spirograph Online.
Easy to Use
For one thing the spirograph on computer is easy to use.  In fact, as soon as you complete a design, you can print it, and share it with others.  Furthermore you can also learn more when you look at the Inspirograph gallery.  It is filled with beautiful designs to fire up your inspiration.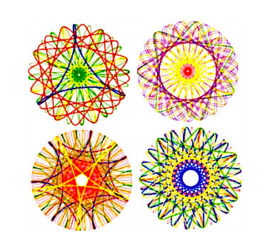 In reality, you are gonna get so hooked that you won't even want to buy spirograph at the store or online.  Undoubtedly, this online activity is fascinates children to release their imagination.  Certainly kids will be amused by the movement of the spirograph pen in the gear ring, and that will allow them to create intricate and brilliant patterns over and over.
Relaxing Activity
In particular the inspirograph game is very relaxing for kids and adults too.  Surely, it is an ideal way to unwind and relieve yourself of stress.  No doubt this art toy will help to bring calm to your mind and soul as you doodle your stressful thoughts away with many swirls of arc.
So are you looking for an online activity that will keep kids occupied in a meaningful way?  To emphasize, with the Inspirograph there is nothing for you to download.  Neither do you need any special software.  In order to begin your designs, remember to select a color, likewise a gear.  Not to mention when you start your swirls of arc creations, you will find yourself immersed in the activity.
This Inpirograph Game takes enjoyment to another level like no other art toy.  Both kids and adults will take great pleasure to create entangled spiral designs.  The activity will satisfy kids artistic desire and they will admire the beautiful patterns that they have made.
Information is out that a mobile application is in the making.  How cool is that?  Making fun geometric designs with Free Spirograph Online will be better yet.

Please share this article with others and leave your comments below.  We would love to see some of your designs too, so feel free to share them.
If you have any questions, concerns or suggestions please let us know
Read Some More:
Spirograph For Kids
Cool Arts and Crafts For Kids
Spray Paint Stencil Art For Kids
Are Face Paints For Kids Safe? A Review
SaveSave
SaveSave
SaveSave
SaveSave
SaveSave
SaveSave
SaveSave
SaveSave
SaveSave
SaveSave
SaveSave
SaveSave
SaveSave
SaveSave
SaveSave
SaveSave
SaveSave
SaveSave
SaveSave