In case you would like kids to add unique touches to their drawings then the Crayola Emoji Marker Maker is perfect.  Of course children can make their own emoji stamps to add cool accents to their artwork.  As a matter of fact the Crayola Emoji Marker Maker is a stamp kit.  That is to say kids can  make up to sixteen different stampers of various colors.  For one thing, this is truly a cool activity.
Crayola Emoji Marker Maker Review
Affiliate Disclosure: artofstencils.com is a participant in the Amazon Services LLC Associates Program, an affiliate advertising program designed to provide a means for sites to earn advertising fees by advertising and linking to Amazon.com and affiliated sites.  "As an Amazon Associate I earn from qualifying purchases." 
Product: Crayola Emoji Marker Maker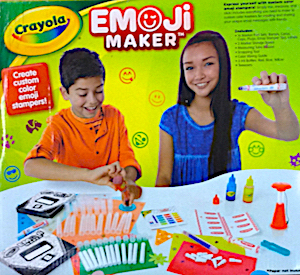 Company: Crayola
Cheapest Place to Buy: Amazon
Star Rating: 4.3 out of 5 stars
Crayola Emoji Marker Maker kit includes:
3 ink colors
2 customizable stamper cases
Base unit
Components for 16 emoji stampers
(emoji nibs, labels, barrels, cores, caps, plugs
Mixing vial
Stamper snapping tool
Tweezers
Customizable marker labels
Color mixing guide
Take a Glance
Kids:
Choose from 16 emoji stamps
Combine washable inks to get your perfect color
Create your own fun Emoji stampers
Design your own stamper labels
Customize your portable storage case
Manufacturer Recommended age: 6+ years
Pros: Trendy Emoji Stampers
Be that as it may, some kids like a winky face, and more so a smiley face with sunglasses.  Surely these are super cute to add to their art work.  Then again a little doggy face or a flower are also popular emoji stamps.  Certainly these funky symbols add some flair to kids drawings.
Of course Crayola Emoji Marker Maker offer a fun way for kids to learn how markers and stampers are made. First thing to remember here is that when they make their very own they simply mix, measure and click.
Easy Steps
To emphasize, kids can create their own colored stampers in just a few minutes.  First, they squeeze the washable ink into a measuring tube.  Secondly they put a marker core to soak up the ink.  Next they use a tweezer to place the core inside a barrel with an emoji nib.  Then snap on a cap and create a cool Emoji Marker.  Uniquely made, your emoji stamper is ready to use .
Watch the short video for a demonstration.
Mix and Match Inks
Assuredly you can use the guide for mixing beautiful colors.  To be sure, experiment mixing these colors until you find your favorite color.  Pursuing this further, you can just come up with your very own color.  No doubt kids will have fun as they squeeze red, blue and yellow ink in the mixing vials.  As a result they will create perfect vibrant colors for each emoji stamper.
After all, things may get a bit messy with ink mixing and cotton tube dipping.  However, after kids assemble each stamper, fun stamping begins and artwork comes to life.
Generally, kids are amused as they choose the different emoji stamper nibs and wonder what to make. Granted that they have a wide choice, it's either going to be a cute doggy face or hearts, pizza slices or smiley faces and so much more.  Ideally they will select the ones that are more appealing and add fun stamps to their drawings.  Not to mention that they are ready to send some unique visual messages to their friends and family.
Labels and Storage Cases
To emphasize, the Crayola Emoji Marker Maker includes everything you need to customize your Emoji stampers.  By all means you can take these markers with you wherever you go.
Once you have your emoji stampers ready, then you can make your own label stickers for each one.  In fact you can also customize your carrying case, organize your emojis and you are ready to go.  Hence you can store your beautiful Emoji Marker easy.
Crayola Emoji Marker Maker 2016 Award Winner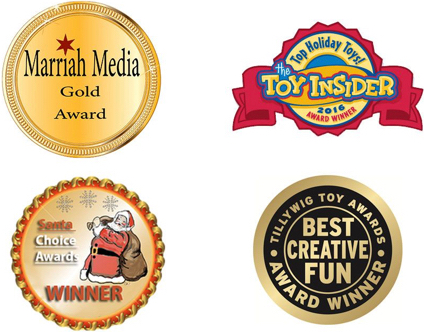 Play on Words, 2016 PAL Awards
Toy Insider, Top Holiday Toy
Tillywig, Top Fun Award
National Parenting Products Award, 2016 NAPPA Award
Marriah Media, Gold Award
Santa Choice: Santa Choice Award
The National Parenting Center, Seal of Approval
Parents' Choice Award, Fun Stuff Award
Mom's Choice Awards, Gold Award
Savvy Auntie, Coolest Toy Award
Cons
On the negative side, here are a few things to bear in mind.
The stamp markers don't make perfect emojis every time and some of the signs create a more crisp looking stamp than others.
The customized labels may peel off easily from the markers.
Mixing the colors as suggested may not come out as your ideal color.
It's hard to identify some of the emojis.  You have to dot them on paper to get the whole image right.
Despite the cons, I highly recommend this award winning product for kids.  Remember they can add an extra flair to their drawings and it is easy and fun to use.  Considering that there are so many pros, it is worth trying.  Kids can't go wrong while using the Crayola Emoji Marker Maker.
Have your kids ever tried the Crayola Emoji Marker Maker?  How did it work out for them?  Please share your views below.
Read More:  
SaveSave
SaveSave
SaveSave
SaveSave
SaveSave
SaveSave
SaveSave
SaveSave
SaveSave
SaveSave
SaveSave