Creative Kids Stencils Drawing 
Kids Stencils Drawing is a great way to help with children's creativity in art.  Many of us wondered at some point if there is any benefit of these pre-drawn templates to a child's artistic development.  Let me reassure you that this is an excellent way for kids to get ideas so they can draw.  In fact click here and learn more about the benefits of stenciling for kids.  Generally, there are several benefits of stenciling. Read more here.
Some people are born artist, so naturally they will pursue this talent.  Some of us struggle like myself.  I  was not born with that artistic touch.  That is the main reason I am attracted to artistic design templates.  I am not discrediting freehand drawing which is excellent.  As a matter of fact read this article about freehand drawing and stencil art templates.  Point in fact is that I just want to shed light on another way for kids to add beauty to their creative art.  Actually you can discover more here.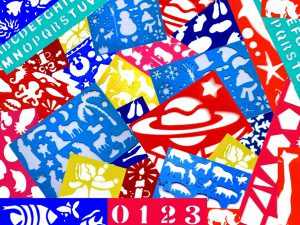 So how can we help children who might have a fear for drawing?  Use stencils like those above to help with their fear.  They will be using outlines ready at their finger tips.  Many kids will be very happy to try their hands at some creative activity. with these templates.
Little kiddos can use these stencils until they feel comfortable doing art freehand.  These patterns can  help to ease their fear, and give a boost to their self confidence.
In case you are wondering if kiddies should use kids drawing stencils, learn more here.
Kids Stencils Drawing For Therapy
Many educators have suggested that art and craft activities for kids can play an important role in their development.  When we get toddlers to do these activities, it is helping them with the development of fine motor skills.  To emphasize, read how little kiddos can benefit here.
Those who are involved in therapy believe that any form of art, freehand drawing or templates are important to help children get through an emotional situation.   They can use simple stencil designs to express their thoughts, and in this way many of them can talk about what's happening in the pictures that are drawn.  Certainly Kids Stencils Drawing is not restricted to paper, but they can also enjoy sidewalk chalk art too.  Read more here.
Art After the Hurricane
Many years ago while residing on a small Caribbean island which was greatly hit by the devastating hurricane Ivan, art was healing to many kids.  The children were so affected by this disaster that every time it rained, they would think that another hurricane was heading their way.  In this situation much reassurance and activities to calm kids are very important.
Did we help them to get through this difficult time?  Certainly, and drawing for therapy was one way.  It helped with relaxation.  Kids expressed their emotions through art, then discussed their pictures.  Those little kiddos explained what happened during the hurricane, the effect it had on the family, and the help that came their way.  Of course they did their freehand drawing and along with that they used easy drawing templates.  Discover more here.
Kids Stencils Benefit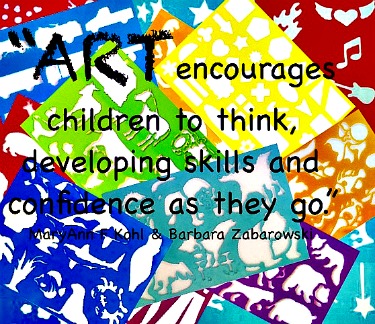 For what reason have I chosen to promote Kids Stencils Drawing?  It is because this activity can help children to improve their artistic ability.  Using stencils for kids in my class benefited them a lot.  They were able to express themselves more creatively.  Their skills improved in other subjects such as math, reading and creative writing.
Nobody denies that there are benefits from using  stencil templates.
Offers Enjoyment
Children in general enjoy Kids Stencils Drawing.  Undoubtedly parents, other family members and friends can all have a happy time together with this activity.  Surely kids can trace these outlines on paper, and also on t-shirts.  This is more fun because you can make it a family affair.  Besides that here is a post with other ideas.
So how important are Kids Stencils Drawing?  When kids are creative, it can lead to greater success, so allow them to use different drawing supplies like these templates.  Let them engage themselves in drawing, painting, cutting or tearing art paper, squeezing glue and sticking things together.
Why not allow them to experiment with the mixing of colors to splatter paint on those stencil art templates, or just plain paper?  Help the toddlers as they try to scribble those lines, draw those dots and circles.  No doubt these activities help to improve their fine motor skills.   Surely children will always want to try their hands at anything that is fun and gratifying.  Watch the short video for a demonstration.
Boost Self Confidence
Important to realize that the more children are involved with these activities, their self confidence gets a boost to be more creative.  In light of this we can give kids this outlet to express their imagination through art.  No doubt they will show their feelings through art especially if they have difficulty expressing themselves with words.
Definitely show them the alternative of using Kids Stencils Drawing if they are not comfortable with free hand drawing.  Without reservation let us provide an encouraging atmosphere for kids to experiment freely with different materials and create beautiful art.  Learn more about things that kids can draw here.
Hope you are happy with your experience at artofstencils.com.  If you have any questions, concerns or suggestions please let us know.  Feel free to share this page or leave a comment.
Read more: https://en.wikipedia.org/wiki/Stencil
Can Stencil Art For Kids Enhance a Child's Artistic Ability?
SaveSave
SaveSave
SaveSave
SaveSave
SaveSave
SaveSave
SaveSave
SaveSave
SaveSave
SaveSave
SaveSave
SaveSave
SaveSave
SaveSave
SaveSave
SaveSave
SaveSave