Cool Arts and Crafts for Kids are inspiring, provides hours of critical thinking and creativity.
Assuredly, there is a charm about Cool Arts and Crafts For Kids.  Of course children work quietly as they create admirable art.  Have no fear about that mess when you see them dipping their fingers or paintbrush into paint and sloshing it on paper.  As a result, they will end up with a beautiful creation.
Matter of fact, children are not concerned about getting messy, neither are they concerned about putting paint in the right places.  Rest assured that they just want to put their creative hands to work.
Surely, Cool Arts and Crafts for Kids will blow your mind when you see the expression of each child's artfulness on paper.  Certainly, these will impress as kids put their creative touch to work.  Indeed, their imagery always show us a new point of view that don't even come to mind.
Stress Free
One point often overlooked is that these activities are completely stress free.  Kids truly relax in their own little art world.  In general, they draw, paint, or just create things with various craft materials.  Not to mention that they let their imagination go loose.  Inspired to be creative, their motivation gets pumped.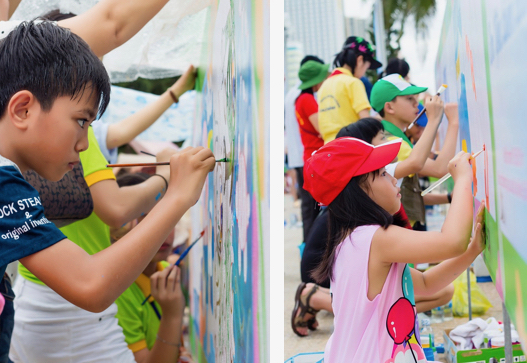 An Advocate
After all, for those who say that they can't draw or paint, kids drawing stencils can be the rescue.  That's one of the reasons I promote them to motivate imaginations.
Being an advocate for kids to use stencils for drawing isn't a bad idea at all.  For sure, a child who is experiencing difficulty will welcome such tools.  No doubt these can be added encouragement for them to unleash their creative thoughts.  Whether kids draw, paint, or color, these stencils can take kids creativity to higher levels.
"Every child is an artist." (Pablo Picasso)
To begin with, here are some free stencil patterns.  I hope these can aid in the pursuit of creativity.
Cool Arts and Crafts for Kids Activity
Stencil T-Shirts
Have you ever thought how you can use a drawing template to decorate t-shirts?  Truly, this is cool arts and crafts for kids. Moreover, a stencil t-shirt activity can rev up the fun at a kids birthday party or a family reunion.  By the same token, everyone can enjoy the chatter and laughter of family time while using these templates.
Remember you may also add your own freehand touch to personalize your t-shirt design.
On a general note, stenciling t-shirts is a fun way to get the family buzzing. Likewise, it's an activity that can put smiles on faces.  Point in fact, everyone can leave that party or reunion feeling happy.  Undoubtedly, they have accomplish an indelible memory.
Notably, it doesn't have to cost an arm and a leg to get going.  Key point is that you can buy t-shirts in packs of five or six.  As a matter of fact, it is better to just ask everyone to take a plain t-shirt.  In like manner, they can also take along with them some permanent fabric markers.
Check out this cool video.
Pumped up to do some stenciled t-shirts now?  Remember you can get free stencil patterns here.
Kids Face Painting Stencils
Definitely this is a hot deal for kids at fun events.  Children never want to miss out especially when kids face painting stencils can quicken the designs.  Immediately, they will delve right in.  Filled with excitement and no long wait in lines, they show off these colorful designs on their faces in no time.
Think about taking your next birthday party up to another level with kids face painting stencils.  Notably, a face painting kit can save you money and make this activity easy for you.  This may change the way you have birthday parties and family reunions.
Always Popular Butterflies
Simple Butterfly stencils are quite popular with kids for face painting.  Obviously, cute little faces will light up with smiles.
Butterflies are usually brightly colored.  Adding color and life to gardens in the summer and fluttering around wild flowers in the park, they spread happiness to nature.  In the same way, this activity diffuses cheerfulness.
In like manner, color up those little cuties with butterfly stencils.  Kids will giggle, you smile back at them and your party will buzz with life.
Decorate Kids Room
Are you expecting and thinking about how you would like to decorate a wall or two?  Amid the preparation you can create a fantasy room.  Here is a cool easy idea that may inspire you, and the good thing about it is that you will be the designer.
Without delay, enjoy using removable wall decals for kids room.  Easy to use, these semi-adhesive wall graphics can be removed and reapplied to your wall.  Usually, they are vinyl and will not tear or crease easily.
What a beauty.  How easy was that?
As can be seen, Cool Arts and Crafts for Kids are not so limited.  Decorating a room falls right in.
Hope you are happy with your experience at artofstencils.com.  If you have any questions, concerns or suggestions please let us know.  Feel free to share this page or leave a comment.  I would love to hear from you.
Images in this post are credited to:pixabay.com
Read More:   
SaveSave
SaveSave
SaveSave
SaveSave
SaveSave
SaveSave
SaveSave
SaveSave
SaveSave
SaveSave
SaveSave
SaveSave
SaveSave
SaveSave
SaveSave
SaveSave