Cat Stencils Printable certainly provide an excellent way for you to create your own cat drawing outlines.  No doubt soft cuddly cats make great pets.  Similarly, Cat Stencils Printable are great to adorn your creativity.  For instance, you can use them for scrapbooking projects and other art and craft activities.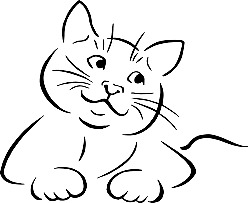 Magical Belief
In general, some people believe that there are cat breeds that are mysterious and magical.  For example black cats are associated with magic.  After all, if you love cats you can add any one of these Cat Stencils Printable templates to your artwork.  Of course your finished masterpiece will have a touch of mystery and magic that will amuse anyone.
How Many Breeds?
Generally speaking, domesticated cats are actually offsprings of wild cats from Africa and parts of Asia.  Albeit, there are over 70 different breeds of cats.
Superb Senses
Cats particularly have a superb sense of smell.  Similarly they are also excellent at hearing.  As a matter of fact, once cats rotate their ears, they pick up sounds rather quickly.
In the same way, cats have brilliant sight especially at nights.  Coupled with all these superior senses, cats catch their prey in a jiffy.  Certainly, many cats have an athletic ability.  By all means, they explore, jump, climb and in general just playful.  Subsequently, whenever you hear that purr, they are upset, content or just angry.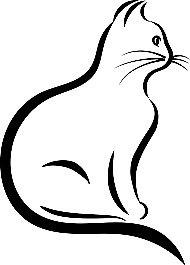 Using Your Free Stencil
The prints are easy to use indeed.  You can print on regular 8.5 x 11 paper.
After printing a design it can be easily resized to your desire.  In case you want to reuse the stencil, laminate it or use some other kind of protective covering before cutting.
For a demonstration on how to make a stencil, go here.
More ideas on how to use stencils are also here.
Several animal stencils are available for free printing right here.
Adorable Cat Stencils Printable Below
I certainly hope these free cat stencils print will provide some help with your projects that include cats.  Surely, you are gonna love your creativity with these.
Cat Drawing Outline                              Cat Face Drawing                     Cat Silhouette Images
Cat Silhouette Template                       Cat Stencil Printable                Black Cat Silhouette
Free Cat Stencils Print                          Black Cat Stencils                     Free Cat Template
Black Cat Silhouette Pattern               Sitting Cat Silhouette               Cat Dog Template
Even though some people like to use a black cat silhouette in their Halloween decoration, others just do a cat carving outline on a pumpkin.  Watch this video for a cool demonstration.
Hope you are happy with your experience at artofstencils.com.  If you have any questions, concerns or suggestions please let us know.  Feel free to share this page or leave a comment.
Would you like to share your stencil designs?  Whether you got your print from this site or another, we would like if you could share your images.
Explore More:   
https://en.wikipedia.org/wiki/Cat
https://www.britannica.com/animal/cat
Image credits on this page are from pixabay.com.
Read More:
SaveSave
SaveSave
SaveSave
SaveSave